Ubium's solution consists of three steps: define an aim, perform the context analysis and work on the implementation.
FIRST. Together with our customer we specify the aim of their product and the experience they want to trigger to a particular audience. After the aim of the project is clarified, we analyse the context where the project will be anchored.
SECOND. Context analysis, where our expertise lies, delivers an understanding of resources and boundaries that the target application should take into account. In the context analysis we take into account three different dimensions:
Environmental dimension where the most "macro" elements are located, from the space, infrastructure and organization (social, economical, physical) where we will anchor our hybrid application.  
Intersubjective dimension pays attention to the diverse interaction that individuals have in the target location. These interactions include interplay among individuals, and between individuals and the environment. 
Personal dimension aims to listen to the end users, and allows us to empathize with them.  
THIRD. After we have discovered our context, or re-discovered it, we can pay attention to the elements and information, which were previously ignored, to build upon them. Now it is time to implement. The type of implementation is agreed in the aim of the project, and it can be for example: finalize a concept, or start the minimum viable product, or write the story.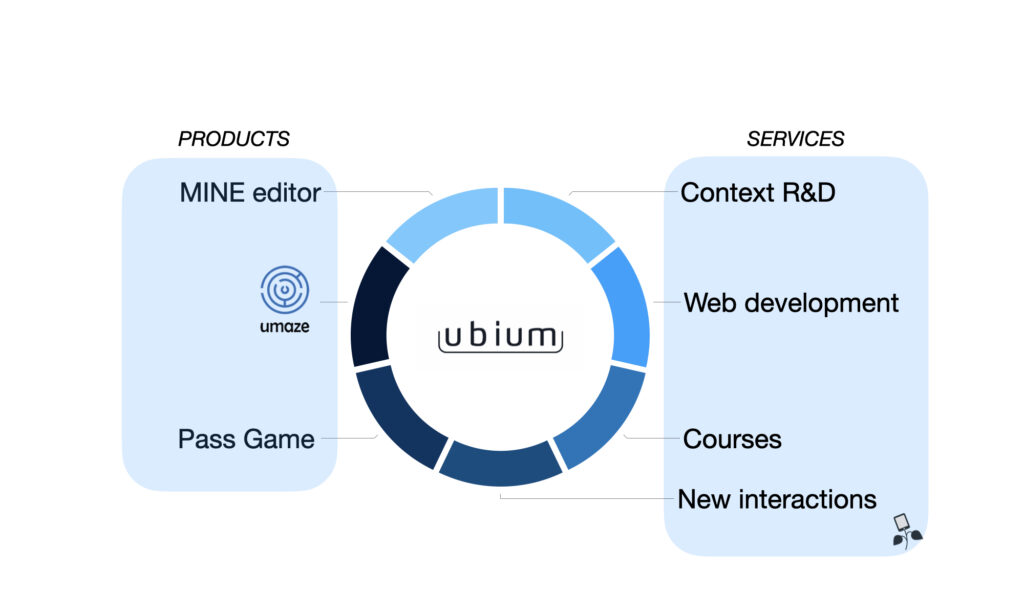 Ubium's contribution, and expertise, is in the conceptualization and implementation of learning experiences that harness the user's context. These experiences utilize hybrid applications, which merge the physical and digital domains. Most of the hybrid applications we produce are narratives (utilizing our story telling editor MINE), mazes (with umaze) and innovative interactive installations and learning material that utilize the technology available in situ.
Often each hybrid application is designed and developed in collaboration with a team, which can include diverse organizations and individuals, including local stakeholders. We connect and harness their special strengths, utilizing co-design methods, to produce a hybrid application that will allow learners to have a meaningful experience.
We know there is potential for a viable business while addressing the challenge to create meaningful learning experiences in context. We want to offer our expertise with other talents and visionaries (our customers) so that together we can create a positive impact in the lives of many people.
---
"If content is King, then Context is God" – Gary Vaynerchuk
---

How about signing up to our newsletter?